Use your gadgets and help us!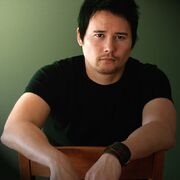 Johnny Yong Bosch
is an American actor, voice actor, martial artist, and musician. He is well known for portraying
Adam Park
in
Power Rangers
. He currently provides the voice for
Nobita
and young
Nobisuke
("The Skyhorse!") in the
U.S. English dub
of the
Doraemon (2005 anime)
.
Other roles
Voice roles in anime
5 Centimeters Per Second – Takaki Tohno
Akira (2001 Pioneer English dub) – Shotaro Kaneda
Beck: Mongolian Chop Squad – Yuji "Saku" Sakurai
Bleach series – Ichigo Kurosaki,Hollow Ichigo
Blood Lad – Braz D. Blood
Bludgeoning Angel Dokuro-Chan – Sakura Kusakabe
Blue Dragon – Bishop
Blue Exorcist – Yukio Okumura
Bobobo-bo Bo-bobo – Bo-Jiggler
Boys Be... – Tsuyoshi Ueno (Ep. 4, as Kevin Hatcher)
Burst Angel – Akio (Ep. 18)
Cardcaptor Sakura the Movie 2: The Sealed Card – Eriol Hiragizawa
Code Geass: Lelouch of the Rebellion series – Lelouch Vi Britannia
Darker than Black: Gaiden – Shichi/Claude
Daphne in the Brilliant Blue – Yasuki Jyonochi
Digimon Fusion - Dracomon
The Disappearance of Nagato Yuki-chan - Itsuki Koizumi
Durarara!! – Izaya Orihara
Eureka Seven series – Renton Thurston
Expelled from Paradise – Frontier Settera
Fafner of the Azure – Kazuki Makabe (credited as Kevin Hatcher)
Fate/zero – Ryunosuke Uryu
Free! Eternal Summer – Makoto Tachibana
Freedom Project – Kazuma
Fullmetal Alchemist – Lujon (Ep. 35)
Gankutsuou: The Count of Monte Cristo – Albert de Morcerf (credited as Kevin Hatcher)
Gate Keepers – Reiji Kageyama
Ghost in the Shell: Stand Alone Complex – J.D. (Ep. 9)
Ghost in the Shell: S.A.C. 2nd GIG – Section 4 helicopter pilot (Ep. 24)
Gun Sword – Michael Garret
Gurren Lagann – Rossiu Adai
Hare+Guu – Chet (credited as Kevin Hatcher)
Heat Guy J – Clair Leonelli
Here Is Greenwood – Kazuya Hasukawa (credited as Kevin Hatcher)
I'll CKBC – Hitonari Hiiragi (credited as Kevin Hatcher)
K – Saruhiko Fushimi
Kamichu! – Kenji Ninomiya
Karas – Reiji
Kekkaishi – Shouki (Ep. 38)
Mars Daybreak – Gram River
Kill la Kill - Shinjiro Nagita
Knights of Sidonia – Nagate Tanikaze
Koi Kaze – Kazuya Miyauchi (Eps. 6–7, credited as Kevin Hatcher)
Lagrange: The Flower of Rin-ne series – Kirius
Last Exile – Claus Valca
Let's Go! Tamagotchi – KuroMametchi
Lucky Star – Boy Student (Ep. 18), Daisuke Ono
Magi: The Kingdom of Magic - Titus Alexius
Marvel Anime: Blade – Djalal (Ep. 7)
The Melancholy of Haruhi Suzumiya series – Itsuki Koizumi
The Melody of Oblivion – Monster King Solomon III a.k.a. Solo (credited as Kevin Hatcher)
Mirage of Blaze – Kotaro Fuma
Moribito: Guardian of the Spirit – Sagum
Naruto/Naruto Shippuden – Yagura (Three Tails Jinchūriki, Fourth Mizukage), Genma *Shiranui, Shigure, Gen'yumaru, Sagi, Akio, Sasori, Shōseki (Shippuden Ep. 184), misc. filler characters.
Paradise Kiss – Hiroyuki Tokumori
Paranoia Agent – Yuichi Taira (credited as Kevin Hatcher)
Persona 4: The Animation – Yu Narukami, Tohru Adachi (uncredited), Ameno-sagiri (uncredited)
Le Portrait de Petit Cossette – Eiri Kurahashi (credited as Kevin Hatcher)
Please Twins! – Maiku Kamishiro
Pokémon Origins – Brock
Resident Evil: Degeneration – Additional Voices
The Prince of Tennis – Shusuke Fuji
Psycho-Pass – Latent Criminal (Ep. 2)
Sailor Moon – Artemis (Viz dub)
Sailor Moon Crystal - Artemis
Samurai Champloo – Shinsuke (Ep. 7), Jogger in the Forest (Ep. 9)
Space Dandy – Johnny (Eps. 20, 26)
Stellvia – Kouta Otoyama (credited as Kevin Hatcher)
Sword Art Online - Kyōji Shinkawa
Tales of Phantasia OVA – Cress Albane
Tenjho Tenge – Masataka Takayanagi (credited as Kevin Hatcher)
Tenkai Knights – Guren Nash / Bravenwolf
Texhnolyze – Takuto
Toradora! – Yusaku Kitamura
Trigun – Vash the Stampede
Trigun: Badlands Rumble – Vash the Stampede
The Twelve Kingdoms – Taiki/ Kohri (credited as Kevin Hatcher)
Witch Hunter Robin – Haruto Sakaki
Wolf's Rain – Kiba
Yo-kai Watch - Nathan Adams
Ad blocker interference detected!
Wikia is a free-to-use site that makes money from advertising. We have a modified experience for viewers using ad blockers

Wikia is not accessible if you've made further modifications. Remove the custom ad blocker rule(s) and the page will load as expected.