Kaminari


神成さん Kaminari san

Character information
Species:
Human
Gender:
Male
Age:
Between 58 and 62
Nationality:
Japanese
Traits
Favorite food:
Onigiri
Favorite color:
Light Brown
Physical characteristics
Hair color:
Black
Skin color:
Peach
Relationships
Background information
Japanese seiyū:
Banjou Ginga (as Takashi Tanaka) (1981)
Shingo Kanemoto (1985-1990)
Takeshi Watabe (1991-2005)
Katsuhisa Houki (2005 series)
English VA:
Unknown
"
You broke my windows again! I will not spare you this time!
"

— Kaminari to Nobita, Gian and Suneo after breaking his window
Kaminari
(神成さん) is an old man living next to the
Open Lot
where
Nobita
and his friends play. It is often shown that the baseballs are breaking the glass of Kaminari's window (a woman's window in early manga chapters) or destroying one of his his favorite bonsai plants, which angers Kaminari a lot. The children always try not to anger Kaminari and play carefully. He also has a wife who rarely appears and a beautiful niece that the boys fall in love with.
Personality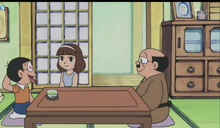 He is seen as a hot-headed old man particularly due to children breaking his window frequently, but he is sometimes seen as a good and nice old man towards the girls (as seen in the case of Shizuka in one episode) or when someone apologizes for breaking his glass, seen in the case when Nobita apologizes to him and he happily gives the baseball to Nobita along with other baseballs that he had acquired since then. He is also shown to be protective towards his granddaughter who was a short time love interest of Gian, Suneo and Nobita.
Trivia
In the English dub his name is changed to Mr. Rumbleton.
He is simply refered as Kaminari Uncle or Uncle Kaminari by Nobita.
In some episodes of the Tamil dub, his name is changed to Kaminathan.
Ad blocker interference detected!
Wikia is a free-to-use site that makes money from advertising. We have a modified experience for viewers using ad blockers

Wikia is not accessible if you've made further modifications. Remove the custom ad blocker rule(s) and the page will load as expected.