The Doraemon Wiki
Comments

5
417pages on
this wiki

Welcome to Doraemon Wiki!
Doraemon Wiki is a collaborative encyclopedia for virtually everything related to the mega-successful Japanese franchise and world of "Doraemon", that hopes to provide a definitive resource of information on the cultural phenomenon, all in the English-language!
We're currently editing
417 articles
with over 11,051 edits made by 33 user since January, 2008!
Main Characters
---
Who is your favorite character
Featured Article for April, 2014
Doraemon: Nobita's Great Battle of the Mermaid King is the 30th installment of the Doraemon feature films. It was released in Japan on March 6th, 2010.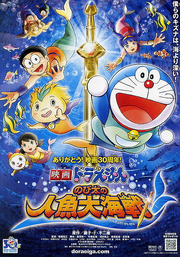 Plot
It starts with a sunken ship in an underwater scene. In the ship a shark is swimming around until an octopus lands on its head next to a mermaid. Later on an unknown planet, the merman tribe destroy everything while looking for the mermaid tribe. On Earth Nobita's mom orders him to go shopping but he leaves to play pirates with Gian.
His mother asks Doraemon and her husband but they have other plans. Doraemon ends up doing the shopping: When he reads the list at the very bottom he sees Dorayaki, a Japanese snack, his favourite food. Later Suneo shares his diving photo shoots in Palau with Gian and Shizuka. Nobita arrived at their place of play to play pirates with Gian. Nobita wants to go to Suneo's house to see more pictures but they don't want him to. He cries and shouts Doraemon's name. Doraemon uses his gentle eyes to comfort him. When Nobita feels like diving in his town, Doraemon uses a Underwater Pump Simulator to pump all the water out of Tokyo, causing the entire city to go underwater. That night, Doraemon and Nobita use a Diving Mask Simulator to dive underwater.
Read More...
---