Use your gadgets and help us!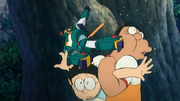 Micross is Suneo's robotic toy that appear in Doraemon Long Story Nobita and the Steel Troops.
Trivia
Micross's role is reduced greatly in the remake, which was given to Pippo.
The name is a play on Macross, a mecha anime series.
Ad blocker interference detected!
Wikia is a free-to-use site that makes money from advertising. We have a modified experience for viewers using ad blockers

Wikia is not accessible if you've made further modifications. Remove the custom ad blocker rule(s) and the page will load as expected.