"
Even after repeatedly falls, if you stand up and be a powerful man then you can face any obstacles in your life
"

— Grandma to Nobita
Nobita's grandmother
(のび太の祖母
Nobita no Sobo
) is the mother of
Nobisuke
. She was gentle and affectionate to
Nobita
, but she passed away when Nobita was still in the kindergarten. She gave him motivation him to conduct himself like a
Daruma doll
(being able to stand up again and again, despite failures after failures). Nobita still keeps the Daruma doll, and sometimes talks about it to
Doraemon
.
Appearance
She was seen as a very old women when introduced in the series with her appearance changed very slightly, she was seen multiple times introduced by Nobita to Doraemon in which she was mostly bed ridden or ill.
Personality
She is always seen as a kind and gentle woman, unlike her husband she never scolded Nobisuke for his lack of interest in activities such as getting in a fight etc.When Nobita travels to the past, she always recognizes him as her grandson even if he has grown up.
Relationships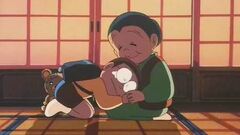 They presumably shown heart touching 'Grandma and Grandson Bond' as nobita remembers her very fondly, with most of his better childhood memories being playing with her; many of his toys, including his old kendama, which becomes a plot point in one film.
Ad blocker interference detected!
Wikia is a free-to-use site that makes money from advertising. We have a modified experience for viewers using ad blockers

Wikia is not accessible if you've made further modifications. Remove the custom ad blocker rule(s) and the page will load as expected.