Nobita's Secret Gadget Museum ~museum Adventure~
Comments

0
417pages on
this wiki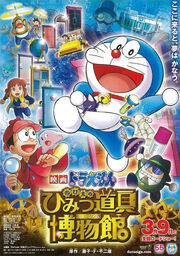 Doraemon: Nobita's Secret Gadget Museum (Doraemon: Nobita no Himitsu Dōgu Museum
(ドラえもん のび太のひみつ道具博物館(ミュージアム)

?

)
is the 33rd installment of the
Doraemon feature films
.
It was released on March 9th 2013 in Japan.
The movie begins in a museum. There are guards everywhere along with a museum director because there is a thieve named Kaitou DX who threatens to take a precious item inside the museum. When the crafty thieve, who disguised himself as the museum director, tries to take the statue he is going after, a detective who looks like Nobita appears. As it turns out, this is all Nobita's dream inside his classroom.  
Back in Nobita's home, Doraemon is asleep. All of a sudden, a mysterious portal appears and a card with the letters "DX" falls on the ground. Immediately after, Nobita returns home and threw his backpack on top of the card, and his test with "0%" falls out from his backpack. He quickly hides the tests paper and put it together with the card into his pocket as his mother came. Soon, the thieve arrives through a portal and steals his cat-bell. Without his cat-bell, Doraemon started to act more and more like a normal cat. In order to stop this, Nobita, Shizuka, Suneo, and Gian decided to go and search for his bell. They went to a factory where all the Doraemon gadgets were made. They were fascinated by all the tools and most of all, they saw the very first "Anywhere Door" ever made!
Characters

Edit