Shizuka's mother
Comments

0
417pages on
this wiki
Personality
Edit
Shizuka's mother is a very kind woman. She is very affectionate to Shizuka and her friends. She appears in many episodes in the series.She's kind, but can also be quite exigent on Shizuka sometimes.
Her name is revealed possibly be
Mi
(美,み,
beauty
) from the episode that Nobita and Doraemon went to the past to see young Tamako. She gave Tamako a novel named "Long Legged Gentleman" as a gift before she moved away.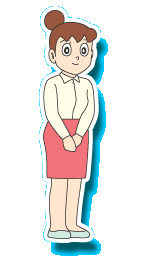 In the Doraemons Special, it is revealed that she was once a successful violinist and has been with her future husband since high school. She had a remarkable resemblance to her future daughter. She has also been a good friend of Tamako since then.
She has an artist father, who is the maternal grandfather of Shizuka Minamoto.
It is stated many times by other people in Doraemon, that Shizuka got her beauty from her mother.
Main article: Shizuka's mother/Gallery