Shogakukan (小学館 Shōgakukan?) is a Japanese publisher of dictionaries, literature, manga, non-fiction, DVDs, and other media in Japan. Shogakukan founded Shueisha, which also founded Hakusensha. These are three separate companies, but are together called the Hitotsubashi Group, one of the largest publishing groups in Japan. Shogakukan is located in the Shogakukan Building in Hitotsubashi, Chiyoda, Tokyo, and the other two companies are located in the same ward.. Shogakukan is the publisher of the Doraemon manga in Japan.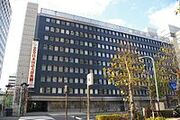 References
http://en.wikipedia.org/wiki/Shogakukan
Official Site
Ad blocker interference detected!
Wikia is a free-to-use site that makes money from advertising. We have a modified experience for viewers using ad blockers

Wikia is not accessible if you've made further modifications. Remove the custom ad blocker rule(s) and the page will load as expected.