Sumire Hoshino (星野スミレ Hoshino Sumire) is a famous teen celebrity in the time of Nobita. She is also known as Parko (パー子 Pāko) in Perman.
Appearances in Doraemon
The Almighty Pass
Sumire was visited by Nobita and Shizuka, who used Almighty Pass to enter her house and spended time chatting with her. However, the gadget's effect wore off at 6pm and the angry Sumire chased them out of her house. 
---
The Pitch-Black Pop Star
---
What a Scoop! Nobita and the Secret Date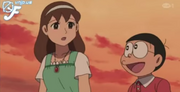 As Nobita flash himself with the Noticeable Light, he was famous around Japan. Nobita runs fast as he almost got a car accident. The one who ride the car is Sumire, since famous already she was ineffective with the Fame Light and help Nobita escape by inviting him in her car. Both the two have some snacks with their disguise on. As soon Sumire removes her glasses she was spotted with 2 girls and both Nobita & Sumire get back on the car and move away. They went to the beach where in no people will disturb them. 
---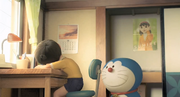 First she appeared in one of the posters of Doraemon in Nobita's closet. Her hair is black instead of brown. Then later her name showed in one of the ads  in the venue of Nobita & Shizuka's wedding.
Personality
Appearance
Relationships
Trivia
Sumire is one of the Permans in the manga series Perman (also by Fujiko), but her age in this series is older than her age in Perman. This could imply that the two characters only share the same name and occupation and are actually different people.
Ad blocker interference detected!
Wikia is a free-to-use site that makes money from advertising. We have a modified experience for viewers using ad blockers

Wikia is not accessible if you've made further modifications. Remove the custom ad blocker rule(s) and the page will load as expected.