Doraemon Wiki
Welcome to the Doraemon Wiki, a collaborative encyclopedia for everything and anything that is related to the show Doraemon. There are 1,566 articles and we are still growing since this Wiki was founded. The Wiki format allows anyone to create or edit any article, so we can all work together to create a comprehensive database for the Doraemon franchise. Don't forget to visit this Wiki's Guidelines before editing.

User of the Month
Poll of the Month
The user of the month is SuneoDash! Congratulations from us at the Doraemon Wiki!

Are you excited for 2016?

 
Did You Know...
1. That Doraemon had a girlfriend called Noramyako, but she broke up with him after the mouse ate his ears?


2. That "Stray male cat" is one of the few direct translations of the name Doraemon?
3. That Doraemon was manufactured on September 3, 2112 in Matsushiba Robot Factory?
4. That Doraemon's original paint colour is yellow?
5. That every main character actually represents elementary school archetypes that Fujiko had noticed in his school days?
6. That Doraemon has a production code, MS-903?
7. That Nobita originally had a pet called Po Ponn, but was removed later by Fujiko?
8. That 'Shizuka' is actually a Japanese word meaning 'quiet'?
9. That the name 'Jaiko' is actually a nickname, but Fujiko never gave her a real name?
10. That the name 'Suneo' was originally supposed to be spelt 'Tsuneo' but was changed by Fujiko?
11. That August 30, 2122 is the exact date when Doraemon's ears were eaten by mice?
12. That Nobita has only three talents: Sleeping, Shooting, & making String Figures?
13. That Nobita hates eating fish except for Sashimi (especially Sardines), Carrot & Peppers?
13. That the voice actor who voiced Gian (Takeshi Gouda) in the 1973 anime was the voice actor of Suneo in the 1979 anime?
14. That Sunekichi owns the only Lamborghini Murcielago in Japan, as seen in "This Road, That Road, and the Easy Road"?
15. That if you fix the ratio of Gian, Suneo, Shizuka & Nobita's physical fitness, it will be Gian:Suneo:Shizuka:Nobita=10:7:5:3 while if intelligence it will be Shizuka:Suneo:Gian:Nobita=12:7:4:2?
16. That Doraemon is currently the highest rated kids show in India?
17. That Fujiko F. Fujio created Doraemon after a series of three events: He wished for a machine that would create ideas for him, he tripped over his daughter's toy, and he heard cats fighting in his neighborhood?
Helping Out
To add more Did You Know, go here.
Do you know some important news about Doraemon? Write them here.
To write a new article, just enter the title in the box below.
Featured Character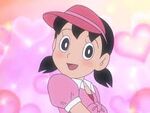 Shizuka-chan (静香ちゃん) is a smart and kind neighbourhood girl. She is, unlike Nobita: being quick and very good at studying. Shizuka takes several baths in a day due to it being her passion.
She cares for weaker people and neglected dolls. She wishes to be a nurse or an air-hostess when she grows up. Both jobs reflect her kind nature. (Read more...)
Doraemon News
Previous:
I'm Mari-chan
The Shifting Stick
Current:
Love?! The Transformation Biscuits
The Act Predictor Lens
Next:
TBA
Nobita and the Birth of Japan 2016 has been announced, and will be released in Japanese cinemas in March 2016.

Wasabi Mizuta started recording for the movie (November 30, 2015)
The movie's ending song has been announced and it is titled Sora e. (December 7, 2015.)

The song's lyrics will be available around March 2016.

Doraemon has officially arrives the United Kingdom on Boomerang Television! If you're in the United Kingdom, and have Sky, Virgin, BT or TalkTalk TV, ne sure to catch it on Boomerang TV!

An English version of LUK Internacional's Doraemon-world.com website has been launched as well for said market. Click here to visit the website.
Chatroom
Feel like talking about rumors about Doraemon? Just want to talk about stuff?
Visit the Forum to talk about it.
Featured Voice Actor
Tomokazu Seki (born September 8, 1972 ) is a Japanese voice actor. He provides the voice of Suneo in the 2005 anime. (more...)