Doraemon Wiki
Welcome to the Doraemon Wiki, a collaborative encyclopedia for everything and anything that is related to the show Doraemon. There are 1,777 articles and we are still growing since this Wiki was founded. The Wiki format allows anyone to create or edit any article, so we can all work together to create a comprehensive database for the Doraemon franchise. Don't forget to visit this Wiki's rules and guidelines before editing.

User of the Month
Poll of the Month
The user of the month is ❦Ristyawan Pratama❦! Congratulations from us at the Doraemon Wiki!

How do you think Doraemon: Nobita's Great Adventure in the Antarctic Kachi Kochi will be?

 
Did You Know...
1. Which anime title card holds the record for being in use for the longest time?


2. That Doraemon had a girlfriend called Noramyako, but she broke up with him after the mouse ate his ears?
3. That "Stray male cat" is one of the few direct translations of the name Doraemon?
4. That Doraemon was manufactured on September 3, 2112 in Matsushiba Robot Factory?
5. That Doraemon's original paint colour is yellow?
6. That every main character actually represents elementary school archetypes that Fujiko had noticed in his school days?
7. That Doraemon has a production code, MS-903?
8. That Nobita originally had a pet called Po Ponn, but was removed later by Fujiko?
9. That 'Shizuka' is actually a Japanese word meaning 'quiet'?
10. That the name 'Jaiko' is actually a nickname, but Fujiko never gave her a real name?
11. That the name 'Suneo' was originally supposed to be spelt 'Tsuneo' but was changed by Fujiko?
12. That August 30, 2122 is the exact date when Doraemon's ears were eaten by mice?
13. That Nobita has only three talents: Sleeping, Shooting, & making String Figures?
14. That Nobita hates eating fish except for Sashimi (especially Sardines), Carrot & Peppers?
15. That the voice actor who voiced Gian (Takeshi Gouda) in the 1973 anime was the voice actor of Suneo in the 1979 anime?
16. That Sunekichi owns the only Lamborghini Murcielago in Japan, as seen in "This Road, That Road, and the Easy Road"?
17. That if you fix the ratio of Gian, Suneo, Shizuka & Nobita's physical fitness, it will be Gian:Suneo:Shizuka:Nobita=10:7:5:3 while if intelligence it will be Shizuka:Suneo:Gian:Nobita=12:7:4:2?
18. That Doraemon is currently the highest rated kids show in India?
19. That Fujiko F. Fujio created Doraemon after a series of three events: He wished for a machine that would create ideas for him, he tripped over his daughter's toy, and he heard cats fighting in his neighborhood?
20. That Dorami has a boyfriend named Dora the Kid?

Helping Out
To add more Did You Know, go here.
Do you know some important news about Doraemon? Write them here.
To write a new article, just enter the title in the box below.
Featured Character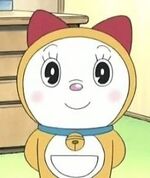 Dorami (ドラミどらみ Dorami) (born on December 2, 2114) is the younger sister of Doraemon. She is yellow and has ears that resemble a large red bow. She happens to be about 2 years younger than Doraemon. Strangely enough, they are siblings due to the fact that they drank from the same oil can. She lives in 22nd-century Tokyo with Sewashi. She sometimes visits Nobita with a time machine when Doraemon is "off-duty" or to help Doraemon with something.Read more...
Help
Do you have any questions?
Ask one of the administrators.</center>

Doraemon News
Previous:
You can't do That! Prohibition Sign
My Guardian Paper
Current:
Let's go to The Dinosaur Tour!
The Snooze Sticker
Next:
Special Plan for Summer Vacation! 3cm Nobita's Adventures
Kaneta Kimotsuki, a veteran seiyū who voiced Suneo in the 1979 anime, died from pneumonia. (October 20, 2016)
The Summer Olympics conclude in Rio de Janeiro, Brazil, with Doraemon appearing in the Tokyo 2020 Olympic Games presentation. (August 21, 2016)
A Japanese model-maker, Momiboku transforms two of the characters of Star Wars into the stars of Doraemon. (February 21, 2016)
Chatroom
Feel like talking about rumors about Doraemon? Just want to talk about stuff?
Visit the Forum to talk about it.
Featured Voice Actor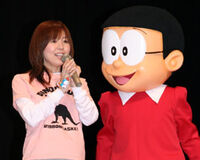 Megumi Ōhara (born April 16, 1975) is a Japanese voice actress, who is best known for being the Japanese Seiyu (voice actor) of Nobita Nobi in the 2005 anime.(more...)